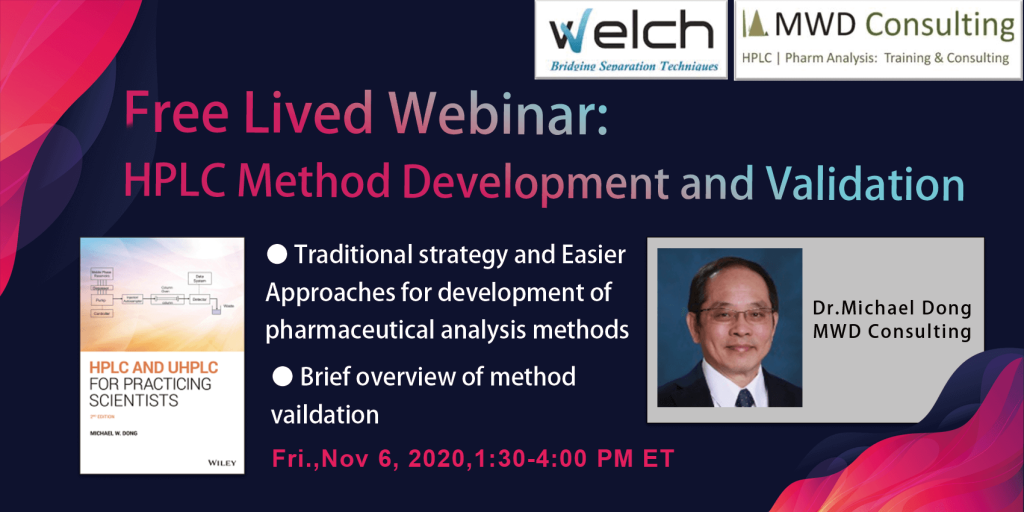 You are invited to join our 2.5-hour Free webinar on HPLC method development and validation focusing on the stability-indicating methods in the pharmaceutical analysis of small molecule drugs," on November 6, 2020, 1:30 – 4 pm ET. Please register by using the link below.

Speaker: Dr. Michael Dong, MWD Consulting, Norwalk CT, USA, mwd-consulting.com
Date: Friday, November 6, 2020, 1:30-4:00 pm ET.

Webinar Description
This intermediate 2.5-hour workshop will provide the analytical scientist with a clearer understanding and a solid working knowledge of best practices in method development and validation of HPLC and UHPLC (ultra-high-pressure liquid chromatography). The focus is on the development of stability-indicating methods for the pharmaceutical analysis of small molecule drugs
Who Should Attend?
Analysts, scientists, researchers, and managers in pharmaceutical and other industries who want to get an updated overview of the fundamentals of HPLC and UHPLC method development and validation in pharmaceutical analysis. A basic understanding of chemistry and HPLC with some hands-on experience is assumed.
Webinar Content
Tradition strategy for HPLC method development and a survey of automated tools and software
3-pronged template approach for rapid method development
Use of a universal generic gradient method for the assay of multiple NCEs and stability-indicating assays with simple adjustments
A brief overview of method validation with case studies
Webinar Agenda
| | |
| --- | --- |
| 1:30 pm | Introduction of company and speaker |
| 1:40 pm | Part a and b |
| 2:50 pm | Break |
| 3-3:45 pm | Part c and d |
| 3:45 pm | Q&A |
| 3:55 pm | Concluding Comments |
Sponsoring Organization: Welch Material, Inc.
Welch Materials develops and manufactures chromatography consumables, including HPLC columns, Solid Phase Extraction (SPE) columns, GC columns, sample vials, syringe filters, and chromatographic media.
Welch Materials is a multinational company that develops and manufactures chromatography consumables including analytical and preparative HPLC columns, Solid Phase Extraction (SPE) columns, GC columns, bulk packing materials, and protein purification products. Welch Materials was established in 2003 in Shanghai, China, and Welch Materials (Zhejiang) was opened in 2011 at Jinhua, Zhejiang, China. Welch has established operations at Welch Materials, Inc. at West Haven, CT, USA, and Welch Materials, India PVT. Ltd., at Gurgaon. Welch strength lies in our deep experience in particle surface modification science. We are experts in bonding chemistry and innovative packing materials for chromatography applications. Utilizing and optimizing our resources, we have developed many innovative products including five series of HPLC columns including Ultisil®, Welchrom®, Xtimate®, Topsil®, and Boltimate® and market and support these products on a worldwide basis.
Welch Materials, Inc.
334 Main Street, West Haven, CT 06516, USA, Tel: +1-203-691-1721, info@welchmat.com
References
M. W. Dong, HPLC and UHPLC for Practicing Scientists, 2nd Ed., Wiley, Hoboken, NJ, 2019.
M. W. Dong, K. Huynh-Ba, and J. T. Ayers, Development of Stability-Indicating Analytical Procedures by HPLC: An Overview and Best Practices, LCGC North Am. 38(8), 440-455, 2020.
M. W. Dong, K. Huynh-Ba and A. W. Wong, Validation of Stability-Indicating HPLC Methods for Pharmaceuticals: Overview, Methodologies and Case Studies, LCGC North Am. 38(11), xxx-xxx, 2020, in press.
Biography
Michael W. Dong is a principal of MWD Consulting, which provides training and consulting services in HPLC/UHPLC, method development/improvements, pharmaceutical analysis, and drug quality. He was formerly Senior Scientist at Genentech, Research Fellow at Purdue Pharma, and Senior Staff Scientist at Applied Biosystems / PerkinElmer. Michael holds a Ph.D. in Analytical Chemistry from the Graduate Center of the City University of New York. He has over 130 publications and a bestseller book in HPLC from Wiley. He is an advisory board member of LCGC North America, Chinese American Chromatography Association, and Connecticut Separation Science Council.
If you have any problem or require further information, please contact info@welchmat.com.